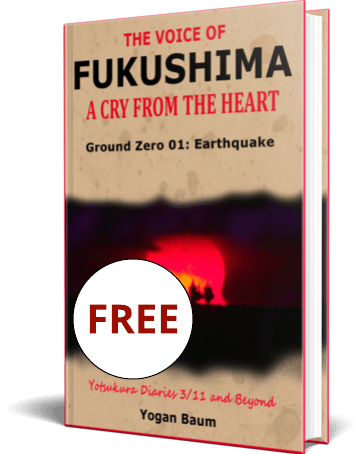 Available in:

eBook as ePub, mobi (Kindle), pdf

ISBN:

9781310812231
Available from these eBook stores
Get Your FREE Copy of The Voice of FUKUSHIMA: A Cry from the Heart – Ground Zero 01: Earthquake
Yogan Baum, no longer a stranger in his adopted country, lived through the triple catastrophe that devastated northeastern Japan from March 11, 2011 right up to the present.
The place is Yotsukura, Fukushima. A sleepy little village of recently laid-up fishermen 20 miles from the terminally ruined Dai-ichi nuclear power plant.
He still works out of the cozy old house his wife Mariko has made their home over the last 30 years. But, oh, life has changed.
Having set the stage in loving detail in Ground Zero 01: Earthquake – episode one of The Voice of FUKUSHIMA: A Cry from the Heart – Yogan relives the traumatic experience of the M 9.0 Tohoku megaquake that shook and shattered his world. First it sent him running. Then it sent him packing. Awed by the intensity of the event he is unaware of its consequences.
 Look inside the book and read excerpt
The book deals with all the pertinent questions. It is the survivor's "Fukushima" in a nutshell. A dense fabric of memories and reflections woven across steel bars in trying to heal a trauma.
Read and learn about how Yogan struggles in the face of the big, fat lie they call "FUKUSHIMA". A self perpetuating lie spawned by the industrial-political complex and made viable by the complacent media of this beautiful, suffering country that deserves so much better.
9 years after 3/11 Fukushima is a festering wound everybody wants to forget about. People here live their lives in the shadow of a ruined dream. Yogan is one of them. He suffers but fights. He tries to get down to the truth as he keeps track of the years after THAT DAY. His only weapon are the words you will find in this ebook serial you are so graciously looking into. Will they win you over?
Just like the earthquake was only a prelude to trouble, Ground Zero 01: Earthquake is only a prolog to a chain reaction of fateful traumatic events in the weeks, months and years to come which will be covered in the next episodes of this book serial.
Get Your FREE Copy of The Voice of FUKUSHIMA: A Cry from the Heart – Ground Zero 01: Earthquake
( → You will be forwarded to smashwords.com)
Available from these eBook stores